ABOUT US
TO GOD BE THE GLORY!
Consuming Fire Ministries was birth over seven years ago as Bible study in the living room of Pastor Barker.
Pastor celebrated her birthdays by inviting the sick, oppressed, depressed, possessed to a prayer of deliverance celebration. After the prayer, she fed everyone. People were healed, delivered, received prophetic words that came to pass.
TO GOD BE THE GLORY!
She served in Children Church Ministry of Full Gospel Assemblies of God Church for many years. After procrastinating, she heeded/obeyed the call to ministry. Ever since, she forges forward with the mantra Philippians 3:13 "I can do all things through Christ who strengthens me". This has been her daily prayer.
In 2014, she embarked with the ministry to purchase this building. There were and are daily challenges, but God…..
We do have work to complete in the lower auditorium. Continue to keep us in your prayers. We believe God that the gates of hell shall not prevail against us.
Her desire is for every one she comes in contact with to experience God for themselves.
Our Mission Statement
Consuming Fire Ministries Intl. Inc. exists to change and shape lives from the inside and to develop Proof Producers through the transforming Word of God.
Our Vision Statement:
Consuming Fire Ministries Intl. Inc. will develop a culture of Christ-like Proof Producers by:
Teaching the unadulterated Word of God through deeper life ministry (Bible Study) Discipleship
Welcoming and showing compassion and love for others through Fellowship
Empowering and promoting a continuous personal encounter with God through Jesus Christ – Worship and Praise
Engaging in Community Based Activities – going into the highways and byways to reach the lost for Christ – Evangelism
Our Motto: "Praise Pushes Promises"

MEET OUR SENIOR PASTOR
Dr. Cheryl Barker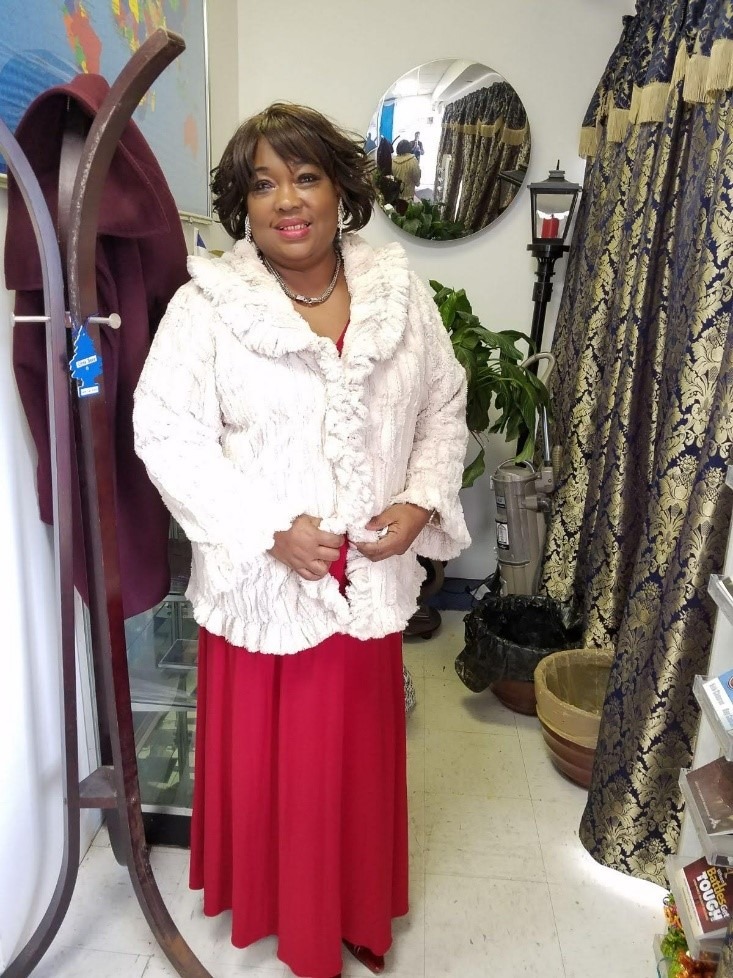 Dr. Cheryl Barker is an amazing woman who wears many hats and is passionate about each of her professions. She is currently the Principal at Thaddeus Stevens PS 81 in Brooklyn and she is also the senior Pastor of Consuming Fire Ministry International Inc.
She joined the New York City Department of Education in 1990 as a teacher, and she taught for 13 years in various capacities, some of which are: Math Coach, ELA Coach, Science Teacher, and Lead Teacher. In 2003 she assumed the position of Assistant Principal and worked in that capacity for one year. In 2004, Dr. Barker attained the position of Principal and to date she continues to work in that capacity. At PS 81 Dr. Barker has created a learning environment that supports professional development for her staff, which in turn guarantees academic and social achievement for students. Dr. Barker believes that this is the essence of her educational philosophy; a philosophy that encompasses the core belief that every child can learn, grow and achieve.  As an instructional leader, Dr. Barker also believes that the fundamental principles of high expectations and excellence permeate all areas of our professional learning community, and students, teachers and parents collaborate to improve our primary goal of student achievement.
As a Christian, Dr. Barker has dedicated herself to pursuing higher education in Christ and has attended Bible School where she successfully pursued a Ph.D. in Theology. She firmly believes that "All scripture is given by inspiration of God, and is profitable for doctrine, for reproof, for correction, and instruction in righteousness, that the man of God may be perfect, thoroughly furnished unto all good works" (2 Timothy3:16-17). As a Pastor, Dr. Barker is committed to feeding both the lambs and the sheep of God's flock (John 21; 15-17). As a Leader she is a servant of God's people following the perfect example of our Lord Jesus Christ (Matthew 20:28). As a speaker Dr. Barker is spirit – filled, dynamic, full of faith, inspiring, and Christ – centered.
As a wife, mother, daughter, sister, family member, and friend Dr. Barker can be described as a beautiful, humble, caring, honest, giving, dependable, and down-to-earth human being.
In addition, here are a few more of the many accomplishments that this dynamic woman, Dr. Cheryl Barker has achieved over the years:
She is a mentor for new Assistant Principals affiliated with the New York City Leadership Academy.
She is an inductee into the Kingsborough Wall of Fame in recognition of her outstanding achievement.
She is a recipient of Brooklyn College's Joseph J. Cohen's award for excellence in education.
Barker has served as one of the distinguished Columbia University 2008 Cahn Fellows participants.
She is the recipient of Brooklyn Borough President, Eric Adams, citation for being a highly esteemed member of the community, for her selfless efforts and her role as liaison between the police, community and religious institution providing spiritual support in times of crisis, in addition to conducting anti-violence prayer gatherings for the protection of the community.